And after what I've seen or read from all the people, specially those ones.. Z-Jezzy (for the post on Z-Tok forum).. Nan (for her wishes).. NoNosh (for the post on Slang forum).. AG.. Z-Mizo (I believe I don't deserve the poetry U wrote: $ that was too much for me).. Shex.. DXer.. Negm.. Nouran7..
I am out of words people for the love I've seen without any mutual benefits.. Friendship for the sake of friendship.. and that's how I cherish it even more :)
Wish we'd be together always and always. and till forever the name RCLF will always rings a bell in my book of memories :)
************
This Friday as my usual I emailed OK this email:

Dear Ossama,
I wonder how to start my words, for this year is different, at least for me. It started all 21 years ago, the 2nd Friday, the 11th of January 1985, your show firstly launched through out the country and I was firstly heard in this universe; walking the same footsteps with the show. People we've lost and people we've met by chance and happy to know; Mistakes we've made and lessons we've learnt; Tears we've shed sometimes and smiles we're happy to keep along the way; Stars we've caught and shadows we tried to escape.
And what can I add more, It makes me proud, it makes me glad knowing that me and the show were born on the very same day and it makes me sad knowing accidentally only 2 years ago …However, as I am starting another phase, turning another chapter in the book of life, entering the age of maturity, filled with wonders, ponders and expectations for what to come, I wish –deep in my heart- that this moment would last as long as our lives would take.. for till my forever would come, I'll be cherishing the precious memories I've had with the show -and the radio in general- like the warmth of having a family around, or like a tree forever grows.
Happy 21th anniversary for "late night Cartoon".. And happy Birthday to me..
URS always and always;
Bluelue … X-BlueBerry

************
What else… Yaaah! Jia's painting.. Violet and Blueeeee my favorite colors..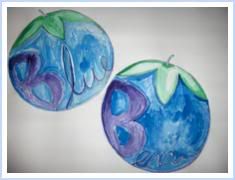 Thank You Mich Loads for working on it for me.. its really
REALLY
my pleasure.
************
I don't remember the rest of things I wished to add, or probably because in the hurry I am I want to goooo NOW!!
One point.. if anyone saw me online till the 18th of jan.. PLZ do not talk to me.. let me just go and continue STUDY.. this subject is really HORRIBLE
BYE for now